Hello to our explorers and Pioneer NFT holders!
This is Team Iskra.
We are thrilled about our first debut on a global exchange and we hope you are all awaiting the meaningful moment to come. Trading of ISK tokens will finally be available on Gate.io from 9:00, September 29th (UTC).
Please be noted that ISK tokens listed on Gate.io are based on Ethereum NOT on Klaytn, so when depositing and withdrawing ISK tokens, make sure you are noted with this precaution not to run into unrecoverable misdeposit of your assets.
Please read through below guidelines before making deposit or withdrawal of ISK tokens from Iskra Wallet to the exchange to avoid unwanted situation caused from incorrect deposits.
[Things to note when making deposits from Iskra Wallet to exchanges]
When sending ISK from Iskra Wallet to exchanges please double-check the

network

you are using.

Only 'Ethereum' based ISK tokens can be sent to exchanges from Iskra Wallet.
NOTE ) 'Mainnet (Klaytn)' based ISK tokens CANNOT be sent to exchanges from Iskra Wallet.

If you wish to send Mainnet (Klaytn) based ISK tokens to exchanges, you first need to swap them to Ethereum based ISKs using 'Iskra Bridge.'
Iskra Bridge will become available at September 28 (UTC).

Please select 'Ethereum' as the network to use when sending ISKs from your Iskra Wallet to exchanges.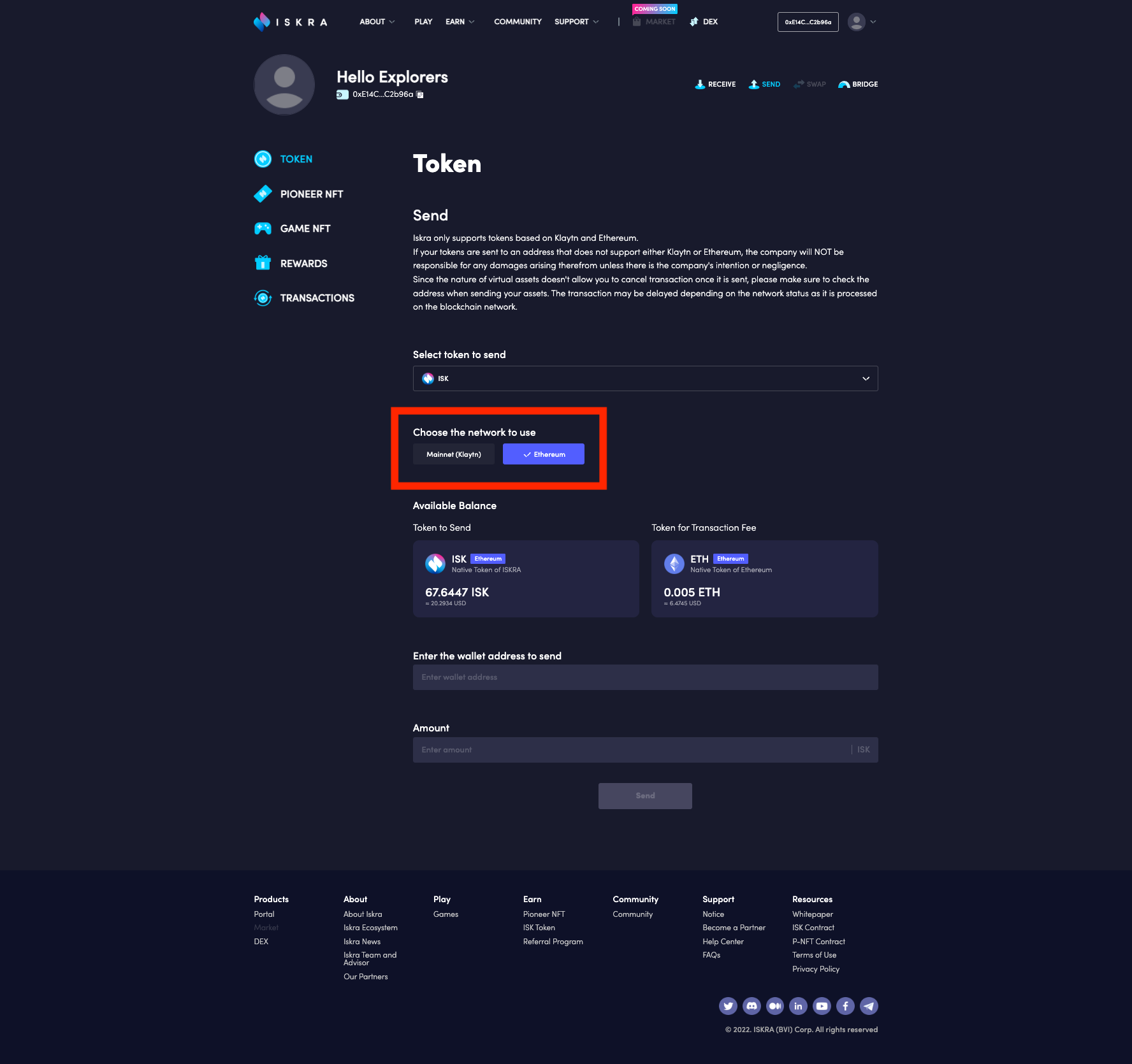 [Things to note when making deposits from exchanges to Iskra Wallet ]
Be sure to select '

Ethereum

' as a network to use when sending your tokens from an exchange to your Iskra Wallet.

As Iskra Wallet supports Ethereum-based ISK tokens, if you make withdrawal from the exchange, you will see your tokens sent to your Iskra Wallet.

ISK tokens withdrawn from exchanges can be inquired on your Iskra Wallet as 'Ethereum' based ISKs.
[Always double-check your NETWORK when sending your tokens]
Due to a nature of ISK tokens being digital assets, there are always risks when sending your ISKs. It will be irreversible once misdeposited to a wrong address.

Even for the misdeposits that can be recovered technically, chances are high that it may not be reversible due to a recovery cost as well as security issues.

We strongly recommend you to test-deposit only a small amount first to see if the deposit is being made correctly and

to make sure that the type of chain (network) is Ethereum before depositing

.

Even if the blockchain address format is the same, if the blockchain network of the digital asset being withdrawn and that of the address receiving the deposit are different, it will lead to a misdeposit. (For instance, ISK based on Klaytn Chain and ISK based on Ethereum chain are totally different)

If you are worried about making misdeposits, please make sure to check through the customer center of the exchange where you would like to make deposit from before proceeding with the withdrawal.
Please take extra cautions when sending and receiving your tokens including ISKs as it may not be recoverable due to technical difficulties or security risks. We will try our best to safeguard your valuable assets by letting you know of these important matters continuously.
Thank you.
Team Iskra.